The 2005 Atlantic hurricane season was the most active Atlantic hurricane season since reliable records began with 31 depressions, 28 named storms, 15 hurricanes and 7 major hurricanes. 3,913 people died in the season and the season caused $180.7 billion (2005 USD) in damage.
The season officially began on June 1 and ended on November 30. The first storm formed on June 8 and the last storm dissipated on January 6, 2006. Out of the 28 named storms, 4 of which became Category 5 hurricanes. They were Emily Katrina, Rita, and Wilma. The strongest storm of the season was Hurricane Wilma, which reached a pressure of 882mb, the lowest in the Western Hemisphere. Hurricane Katrina did the most damage in the season after hitting New Orleans as a Category 3 hurricane. Katrina is the worst natural disaster in the history of the United States. For the first time, the regular naming list was exhausted and the National Hurricane Center had to resort to using letters from the Greek alphabet.

Storms

Tropical Storm Arlene
Early in the season, a low-pressure area formed and persisted north of Honduras. Despite moderate wind shear, the low managed to organize and was designated Tropical Depression One on June 8. The storm strengthened further, and it was upgraded to Tropical Storm Arlene on the following day. From this point, Arlene headed north, intensifying steadily as it spread tropical storm-force winds and heavy rains to the Cayman Islands and Cuba. Arlene made landfall in Cuba near Cabo Corrientes with 50 mph (80 km/h) winds. Wind shear weakened as the storm entered the Gulf of Mexico on the morning of June 10, and the storm intensified to just under hurricane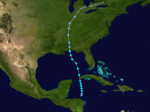 strength with 70 mph (110 km/h) winds.
Arlene made landfall just west of Pensacola, Florida with 60 mph (95 km/h) winds on June 11. After moving inland, Arlene persisted as a dissipating tropical depression for two days, passing into Indiana and Michigan before being absorbed by a frontal system over southeastern Canada on June 14.
The only death attributed to Arlene was a female student caught in rip current in Miami Beach, Florida, far from the center of circulation. Damage from Arlene totaled to $11.8 million (2005 USD; $15 million 2011 USD).
Tropical Storm Bret
After nearly two weeks of inactivity, an area of disturbed weather developed in the Bay of Campeche and quickly became better organized. It was designated Tropical Depression Two on the evening of June 28, and, two hours later, data from a Hurricane Hunter aircraft indicated that it had strengthened into a tropical storm, at which point the system was named Bret. This was the first time that two tropical storms had formed in June since the 1986 season, and only the thirteenth time since 1851.
As the storm developed very close to shore, it only briefly traveled west-northwest before making landfall near Tuxpan, Veracruz, Mexico early on June 29 as a weak tropical storm. It continued inland, producing heavy rain over the state of Veracruz until dissipating over the mountains of San Luis Potosí late on June 29. Hundreds of homes were damaged, and several towns, including Naranjos and Chinampa, about 60 miles (95 km) south of Tampico, were severely flooded, but the only reported fatalities were the two occupants of a car that was swept away by floodwaters in Naranjos.
Hurricane Cindy
Tropical Depression Three formed on July 3 in the Caribbean Sea, but the next day, before being able to strengthen, it moved over the Yucatán Peninsula. The system emerged into the Gulf of Mexico on July 4 at which point a new center of circulation developed at the northern edge of the system and the system strengthened to a tropical storm, becoming Tropical Storm Cindy early July 4. The storm moved rapidly across the Gulf and made landfall near Grand Isle, Louisiana late July 5 as a minimal hurricane; though it was originally thought to have been only a tropical storm at landfall, it was upgraded to a hurricane in the post-storm analysis. As most storms do, it weakened while over land and became extratropical over the Carolinas on July 7.
As a tropical depression well inland, Cindy spawned an F2 tornado which damaged landmarks in Hampton, Georgia, including the Atlanta Motor Speedway, which suffered $40 million in damage alone. While tornadoes are often spawned by tropical systems, F2 tornadoes spawned this way are relatively rare. Large and sometimes record-breaking amounts of rain, more than 5 inches (130 mm) in places, fell over parts of Louisiana, Mississippi, Alabama, and Maryland. Three deaths were attributed to Cindy—two in Georgia and another in Alabama.
Hurricane Dennis
Tropical Depression Four formed in the southeastern Caribbean on the evening of July 4. Early the next day, it strengthened into Tropical Storm Dennis. The storm began moving rapidly to the west-northwest and reached hurricane strength on the afternoon of July 6 while approaching the southern coast of Hispaniola. The next day it strengthened rapidly to become a Category 4 hurricane. Dennis moved between Jamaica and Haiti on July 7.
Dennis reached its peak as the strongest recorded Atlantic storm to form before August with a minimum central pressure of 930 mbar just south of Cuba - a record that would stand only for eight days until Emily broke it. On July 8, Dennis passed over Cuba close to the capital, Havana. The second episode of rapid intensification occurred on July 9 as it moved north toward the Gulf Coast of the United States. Dennis made landfall as a Category 3 storm just southeast of Pensacola, Florida.
Dennis claimed at least 88 lives: 56 in Haiti, 16 in Cuba, 15 in the U.S. and 1 in Jamaica. Total damages are estimated at $4–6 billion USD, including $2.23 billion in the United States and the rest of the Caribbean. Dennis was most damaging to Cuba, where the storm wiped out a significant portion of the citrus crop. As the storm struck near the end of Cuba's dry season, farmers were not yet prepared for the heavy rainfall brought by the storm. In the United States, Dennis drew comparison with Hurricane Ivan of the previous year, but it was both smaller and weaker than Ivan at landfall and caused significantly fewer damages, partly because the region had not yet fully rebuilt.
Hurricane Emily
Emily formed from Tropical Depression Five east of the Lesser Antilles on July 11. It moved westward and hit Grenada on July 14 as a Category 1 storm. It entered the Caribbean Sea and began intensifying rapidly. It reached Category 4 intensity on July 15. Emily broke Hurricane Dennis's eight-day-old record for the most intense storm to form prior to August when it reached a minimum pressure of 929 mbar, along with 160 mph (260 km/h) winds on July 16. It was originally believed that Emily peaked at Category 4. However, some readings indicated that Emily briefly reached Category 5 strength around this time, and Emily was upgraded to Category 5 status in the post-storm analysis. The storm weakened slightly, however, and after passing south of Jamaica and the Cayman Islands, Emily made landfall on the Yucatán Peninsula near Tulum on the morning of July 18 as a Category 4 hurricane. Emily emerged over the Bay of Campeche and made its second landfall in rural northeast Mexico near Boca Madre, Tamaulipas as a Category 3 storm.
Emily is blamed for at least fourteen deaths; one in Grenada, four in Jamaica, seven in the Caribbean and two in Mexico. The storms also caused an estimated $550 million (2005 USD) in damages, almost entirely in Grenada and the Mexican state of Quintana Roo. Some minor flooding occurred in northeastern Mexico and extreme southern Texas as a result of Emily's final landfall, but damages were light.
Tropical Storm Franklin
A tropical wave off the Bahamas organized into Tropical Depression Six on the afternoon of July 21. The depression became the sixth named storm of the season only two hours later, the first time the sixth storm of the season had ever formed that early in the season. The storm headed northward from the Bahamas, then northeast over the Atlantic, becoming disorganized by July 24 under the effects of shear and drier air. It moved erratically, inching closer to Bermuda while barely remaining a tropical storm. Bermuda received some strong wind gusts, but was otherwise unaffected. Tropical Storm Franklin then accelerated north and northeast, roughly paralleling the East Coast of the United States, and intensified to near hurricane strength. Eventually, Franklin became extratropical along the coast of Nova Scotia and Newfoundland.
Tropical Storm Gert
A tropical wave, which had earlier crossed Honduras and the Yucatán peninsula, organized into Tropical Depression Seven on the afternoon of July 23 in the Bay of Campeche. It was upgraded to Tropical Storm Gert early the next day, the earliest formation of a seventh named storm on record. It strengthened little before making landfall on the coast of Mexico south of Tampico late on July 24 with maximum sustained winds of 50 mph (70 km/h) and a minimum central pressure of 1,001 mbar (29.6 inHg). It moved inland over central Mexico before dissipating on July 25.
Gert struck in roughly the same area as Hurricane Emily just four days earlier, causing fear of flooding and landslides due to saturated lands. As a precaution some 1,000 people were evacuated from low-lying residences and businesses near the towns of Naranjos and Tamiahua.
Tropical Storm Harvey
A tropical wave organized into the eighth depression of the season due southwest of Bermuda on August 2. It became a tropical storm the next day.
Harvey was not initially a particularly well-organized storm, and had some subtropical characteristics, but it soon became more tropical in nature. It passed just south of Bermuda early on August 4 while at its peak intensity, with maximum sustained winds of 65 mph (105 km/h) and a minimum central pressure of 994 mbar. Though Bermuda was soaked by Harvey, the island sustained no damage.
Harvey then headed east and later northeast over the open Atlantic. The storm became extratropical on the afternoon of August 8.
Hurricane Irene
Tropical Depression Nine formed from a tropical wave west of Cape Verde on the afternoon of August 4, the second Cape Verde-type storm of the season. The system encountered dry air and wind shear as it turned to the northwest and it broke down. Despite poor organization and shearing winds, it became Tropical Storm Irene on August 7. Further shear and dry air disrupted the cyclone's structure, and Irene was downgraded to a tropical depression on August 8.
Irene cycled between apparent reintensification and significant weakening, becoming so disorganized in the early morning of August 10 that forecasters were considering declaring the storm dissipated. However, the depression continued to move westward into more favorable conditions and again attained tropical storm status, rapidly strengthening to a Category 1 hurricane on August 14. Later, it strengthened even further in low shear conditions under an upper level anticyclone. On August 16 it briefly strengthened to a Category 2 hurricane, but began to weaken in cooler waters shortly thereafter. It became extratropical southeast of Cape Race, Newfoundland on August 18, having never posed a threat to land.
Tropical Depression Ten
Tropical Depression Ten formed 1100 statute miles (1770 km) east of the Lesser Antilles on August 13. Conditions were not favorable for development, as strong vertical shear literally ripped the system apart, and advisories were discontinued the next day when it showed no organized deep convection. The remnants of Tropical Depression Ten continued drifting northwestward before degenerating into a tropical wave north of the Leeward Islands. The mid-level remnant circulation eventually merged with another system in the "complex genesis" of what would become Tropical Depression Twelve and, eventually, Hurricane Katrina.
Tropical Storm Jose
Tropical Depression Eleven formed in the Bay of Campeche on August 22. Later in the day it strengthened into Tropical Storm Jose over the warm waters of the Gulf of Mexico and achieved a maximum strength of 60 mph (95 km/h) before it made landfall in the state of Veracruz, Mexico on August 23. It then rapidly weakened and soon dissipated as it moved inland over Mexico. While drenching Mexico's Gulf coast, Jose forced some 25,000 residents from their homes in Veracruz state. Eight deaths (six direct) were attributed to Jose's heavy rains in the Mexican state of Oaxaca. Two more were reported missing. Damage in Mexico totaled to $45 million.
Later analysis showed that Jose became more organized two hours before making landfall and was forming an eye, but its winds remained under hurricane strength. The final report suggested that the winds made it up to 60 mph (95 km/h) and made landfall as such, but was still rapidly intensifying before running out of water.
Hurricane Katrina
An area of disturbed weather over the Bahamas developed into a tropical depression on August 23, becoming a tropical storm on August 24 and a hurricane on August 25. It made landfall on August 25 in southern Florida,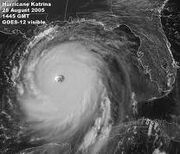 emerging a few hours later into the Gulf of Mexico. Katrina rapidly intensified to Category 5 status on the morning of August 28, becoming the fourth most intense recorded hurricane in the Atlantic basin. The hurricane weakened to a Category 4 as it turned northward, and weakened to a Category 3 hurricane with 125 mph (200 km/h) winds as it made landfall in southeastern Louisiana (as confirmed by the post-storm report; initially it was estimated as a Category 4 landfall). Hours later, it crossed the Breton Sound and held its strength, making its third and final landfall with 120 mph (190 km/h) winds near Pearlington, Mississippi.
The Mississippi and Alabama coastlines suffered catastrophic damage from the storm's 30-foot (nine m) storm surge. New Orleans escaped the worst damage from the storm, but levees along the Gulf Intracoastal Waterway and 17th Street and London Avenue Canals ultimately were breached by storm surge, flooding about 80% of the city. 1,836 people have been confirmed dead across seven US states. Katrina is the costliest and one of the deadliest natural disasters in U.S. history, with damage totals around $81.2 billion (USD; $104 billion 2011 USD). The damage and fatality estimates remain incomplete.
Tropical Storm Lee
A tropical wave moved off the coast of Africa on August 24. It developed into an area of low pressure as it crossed the Atlantic, and organized into Tropical Depression Thirteen on August 28 while 960 mi (1550 km) east of the Lesser Antilles. Because of northeasterly shear, the center of the circulation was removed from the convection, and the depression degenerated into a remnant low late on August 29. Many of the models had indicated that this was likely, but the National Hurricane Center (NHC) instead chose to forecast slight strengthening.
The remnant low moved to the north and later northeast, due to a non-tropical system. The convection increased and the depression regenerated on August 31. That afternoon, the depression strengthened further into Tropical Storm Lee, reaching its peak intensity with winds of 40 mph (65 km/h), in between Bermuda and the Azores. There was uncertainty in its intensity, and it quickly weakened to tropical depression status again. Lee moved around the non-tropical low to its west, causing forecasting difficulties with regards to how tropical it remained. Later on September 1, shear again removed the convection of the depression, and Lee became a remnant low that survived until September 4 when it was absorbed by a cold front. It never affected land, and there were no reports of damage or fatalities.
Hurricane Maria
Tropical Depression Fourteen formed from a tropical wave 1100 statute miles (1,770 km) east of the Leeward Islands on September 1, and strengthened to Tropical Storm Maria the next day. Early on September 4, Maria became the fifth hurricane of the season. On September 5, it briefly strengthened to Category 3 intensity, making it the fourth major hurricane of the season. It gradually weakened and dropped to tropical storm strength on September 8.
Maria became extratropical mid-way between Cape Race and the Azores on September 10. It never threatened land as a hurricane, but Maria became a strong extratropical storm, and actually strengthened to hurricane strength once again while moving towards Iceland.
The remnants of Maria triggered a landslide in Norway that killed three people.
Hurricane Nate
A well-defined low-pressure system located about 350 statute miles (560 km) south-southwest of Bermuda organized into a tropical depression on September 5. It strengthened into Tropical Storm Nate that evening and continued to strengthen with little change in position, becoming the sixth hurricane of the season on September 7.
Hurricane Nate passed 125 statute miles (200 km) south of Bermuda on September 8 and reached peak intensity of 90 mph (160 km/h). Nate then began to weaken. After turning north, it became extratropical over the central Atlantic Ocean on September 10.
Canadian Navy ships headed to the U.S. Gulf Coast to help in the aftermath of Hurricane Katrina were slowed down trying to avoid Nate and Hurricane Ophelia (see below).
Hurricane Ophelia
Tropical Depression Sixteen formed over the northern Bahamas on September 6. Early on September 7, it organized into Tropical Storm Ophelia, becoming a hurricane the next day. It churned nearly stationary for two days off the coast of Florida where significant coastal erosion resulted from the churning waves. On September 12, the storm began moving slowly toward North Carolina, at times nearly stalling and alternating between tropical storm and hurricane intensity. The hurricane did not make landfall, although the western eyewall reached the coastal areas of North Carolina, causing extensive damage in the Outer Banks and around Cape Fear. Ophelia moved north and became extratropical late on September 17 near Nova Scotia, but it continued northeastward, producing strong winds and heavy rain over Atlantic Canada.
Only three fatalities were reported, one direct death in Florida from high surf, one indirect death in a traffic accident in North Carolina and a second indirect death due to a fall in Nova Scotia. Damage is estimated at around $70 million, mostly in North Carolina but also in the Bahamas and Nova Scotia and on the Florida coast. While the storm was initially estimated to have caused as much as $1 billion in damages, that number was determined to be a significant overestimate.
Tropical Strom Philippe
A vigorous tropical wave organized into Tropical Depression Seventeen on September 17 a few hundred miles east of the Leeward Islands. It was upgraded to a tropical storm late that evening. This marked only the third time that the 'P' name had been used to name an Atlantic storm since alphabetical naming began in 1950. The other times were for Pablo in 1995, Peter in 2003, Paloma in 2008, Paula in 2010, Philippe in 2011, and Patty in 2012.
On September 18, Philippe was upgraded to a hurricane, becoming the eighth Atlantic hurricane of the season. It was downgraded to a tropical storm on the afternoon of September 20 and dissipated 3 days later south of Bermuda.
Hurricane Rita
The season's eighteenth tropical depression formed over the Turks and Caicos Islands on September 18. Later that day, it became the seventeenth tropical storm of the season. Rita slowly intensified to become a hurricane on September 20. It was at Category 1 and later Category 2 intensity as it moved south of the Florida Keys. Rapid intensification ensued as Rita moved into the Gulf of Mexico on September 20, and Rita became a Category 5 hurricane on September 21, becoming at the time the third-most intense hurricane ever recorded in the Atlantic Basin with a minimum central pressure of 897 mbar, though it would later fall to fourth following Hurricane Wilma. However, as the storm moved slowly across the Gulf of Mexico it gradually weakened until landfall. Rita made landfall as a weak Category 3 hurricane in Cameron Parish, Louisiana near the Texas/Louisiana border on September 24, 2005.
Major flooding was reported in Port Arthur and Beaumont. Cameron and Calcasieu Parishes in Louisiana were also devastated. Offshore oil platforms throughout Rita's path also suffered significant damage, though the refineries of Houston, originally thought to be at risk, escaped the brunt of the storm. Seven people are confirmed dead from Rita's direct effects, and total damage from the storm is estimated at $10 billion, almost entirely in Texas and Louisiana. 55-112 indirect deaths have also been reported, most resulting from incidents during the evacuation of Houston when the storm was predicted to strike the city. Many of the indirect deaths were caused by a single bus fire in the mass exodus.
Tropical Depression Nineteen
A low-pressure system formed from a tropical wave about 665 miles (1075 km) west of the southwesternmost Cape Verde Islands and developed into a tropical depression on September 30. The depression moved to the northwest, reaching a peak strength of 35 mph (55 km/h) and minimum central pressure of 1,006 mbar (29.7 inHg) on October 1. It experienced strong shear, began to dissipate, and the NHC discontinued advisories the next day. Nineteen dissipated without strengthening to a tropical storm and never threatened any land, so no warnings or watches were issued.
Hurricane Stan
A tropical wave in the western Caribbean Sea organized into Tropical Depression Twenty on October 1. Off the coast of the Yucatán Peninsula, it strengthened into Tropical Storm Stan on October 2. Stan made landfall on the Yucatán and weakened to a tropical depression, but upon reemerging into the Bay of Campeche it quickly strengthened into a hurricane on October 4. Stan made landfall later that morning on the east-central coast of Mexico, south of Veracruz, as a Category 1 hurricane.
Stan was associated with a large area of loosely-organized but very heavy shower activity existing over Mexico and Central America during this time. Torrential rainfall in this area caused catastrophic flooding and mudslides which were responsible for at least 1,662 deaths in six countries; 1,500 of these casualties occurred in Guatemala alone. Initially, more than a thousand deaths were attributed to Hurricane Stan, but the National Hurricane Center postulates that all but less than 100 of the deaths were more related to the larger weather event. This was not definitively confirmed in the Tropical Cyclone Report for Hurricane Stan, though it is certain that only 80-100 deaths resulted from the direct effects of the hurricane.
In addition to the large number of people killed during this time, over 100,000 people were forced to evacuate. The eruption of the Santa Ana Volcano on October 1 contributed to the destruction in Central America as a result of the floods and mudslides caused.
Unnamed Subtropical Storm
In the post-season analysis, the National Hurricane Center identified an additional subtropical storm that had gone unnoticed during the course of the season. The storm formed on October 4 and was absorbed by a non-tropical low the next day after passing over the Azores, where Santa Maria Island reported sustained winds up to 40 mph (60 km/h). The low that absorbed the storm would eventually become Hurricane Vince. At its peak, the storm had winds of 50 mph (80 km/h) and a minimum central pressure of 997 mbar (hPa). No damages or casualties were reported.
Tropical Storm Tammy
A tropical disturbance north of the Bahamas showed signs of having a well-defined surface circulation and sufficient wind velocity and was upgraded to Tropical Storm Tammy at 7:30 a.m. EDT (1130 UTC) October 5 east of Florida, skipping tropical depression status. This marked only the second time that the 'T' name has been used to name an Atlantic storm since alphabetical naming began in 1950; the other time was for Tanya in 1995 (later on there would be Tomas in 2010 and Tony in 2012).
Tammy made landfall in the vicinity of Naval Station Mayport near Jacksonville, Florida late that same evening. Tammy then moved rapidly inland across southern Georgia and Alabama before dissipating into a remnant low that drifted south into the Gulf of Mexico. The rains associated with Tammy became disconnected from the cyclonic circulation after landfall and affected much of Georgia, South Carolina and parts of North Carolina. The frontal system it merged with was responsible for the flooding in the northeast.
Subtropical Depression Twenty-two
Subtropical Depression Twenty-two formed from a non-tropical low 450 miles (725 km) southeast of Bermuda on October 8. The system encountered unfavorable conditions, and advisories were discontinued later that night as the system dissipated at 11 p.m. EDT (0300 UTC October 9). The NHC continued to monitor the remnant as it headed towards the east coast of the United States. The extratropical system continued to pull tropical moisture northward (and strengthened to tropical storm intensity) and was, along with Tropical Storm Tammy, a partial cause of severe flooding in New York, New Jersey, and New England during early to mid-October. The flooding killed 10 people and contributed to the wettest month on record in locales throughout the Northeastern United States.
Hurricane Vince
Tropical Storm Vince was named on October 9 in the eastern Atlantic near Madeira (east-southeast of the Azores) and was upgraded to a hurricane later that day though later analysis indicated that it had formed as a subtropical storm the previous day. Although Vince was a very small and short-lived storm that only briefly reached hurricane strength, it was notable for developing in the eastern Atlantic, well away from where hurricanes are usually found. This may be the farthest north and east a tropical cyclone has ever formed in the Atlantic Basin.
Vince made landfall on the Iberian Peninsula near Huelva, Spain on October 11 just after weakening to a tropical depression. Vince was the first tropical cyclone on record to make landfall in Europe. No damages or injuries were reported, aside from flooding in some areas.
Hurricane Wilma
Tropical Depression Twenty-four formed southwest of Jamaica on October 15 and was upgraded to a tropical storm on October 17. On October 18, the storm developed a tiny, well-defined eye and began intensifying rapidly, reaching Category 5 strength with a record-setting pressure of 882 millibars by October 19. The rapid intensification from tropical storm to Category 5 hurricane in 24 hours was the fastest ever recorded in the Atlantic Ocean, and the second-fastest worldwide, after Super Typhoon Forrest. Wilma slowly drifted towards the Yucatán Peninsula, weakening slowly to a Category 4 before landfall on Cozumel and then the Yucatán coast on October 22. It drifted equally slowly over the peninsula, bringing heavy rain and wind to an area hit hard by
Hurricane Emily only 3 months before; Hurricane Emily had also passed directly over Cozumel. After leaving the Yucatán as a Category 2 storm, the storm moved rapidly to the northeast and strengthened slightly, making landfall on southern Florida on October 24 as a Category 3 storm. After crossing Florida, Wilma reintensified to a Category 3 storm over the Gulf Stream but sped rapidly out into the Atlantic, and became extratropical shortly after absorbing the remnants of Tropical Storm Alpha (see below).
62 people are confirmed dead as a result of Wilma, 28 from the direct effects of the storm and 34 from indirect effects, with majority of the deaths, 35, in the United States. Wilma caused $28.8 billion (2005 USD) in damages across the Caribbean, Mexico, and Florida, including $20.6 billion in Florida, making Wilma the third-costliest hurricane to strike the United States. Well-executed evacuations throughout its path may have lessened the death toll.
Tropical Storm Alpha
A tropical wave organized into Tropical Depression Twenty-five in the eastern Caribbean Sea on October 22. Later that day, it strengthened into a tropical storm as it moved west-northwestward. On the morning of October 23, it made landfall with 50 mph (85 km/h) winds near the city of Barahona in the Dominican Republic, then moved over Haiti. Alpha weakened to a tropical depression over Hispaniola's steep mountains. Alpha reentered the Atlantic Ocean where it was absorbed by Hurricane Wilma.
Tropical Storm Alpha was the 22nd named system in the 2005 Atlantic hurricane season, breaking the 1933 season's record and becoming the first tropical storm to be named using the Greek Alphabet. A total of 43 people have been reported dead because of Tropical Storm Alpha, mostly in Haiti.
Hurricane Beta
Late on October 26, a broad area of low pressure in the southwestern Caribbean Sea developed and became Tropical Depression Twenty-six. Six hours later, it was upgraded to Tropical Storm Beta. Beta strengthened into a hurricane on October 29. On October 30, Hurricane Beta became a major hurricane with sustained winds around 115 mph (185 km/h). That brought the total amount of major hurricanes in the 2005 season to seven, one short of the record eight set in the 1950 season.
Beta extended the record for most tropical storms in a season to 23 and was the first use of the name Beta for a tropical system. At the time it formed, Beta was considered the thirteenth hurricane of 2005, breaking the 1969 record of twelve hurricanes; later analysis showed Tropical Storm Cindy was a hurricane, which means the record-breaking thirteenth hurricane was actually Hurricane Wilma. Additionally, it was both the first hurricane (as opposed to a tropical storm), and the first major hurricane, named with a Greek letter.
The Colombian island of Providencia, about 140 miles (230 km) off the coast of Nicaragua, was subjected to hurricane force winds for several hours as the center of the storm moved very slowly by the island. Reports indicate extensive damage to homes and a loss of communications with the islanders.
Tropical Storm Gamma
Late on November 13, after nearly two weeks of inactivity, Tropical Depression Twenty-Seven formed from a tropical wave about 115 miles west-southwest of St. Lucia. While passing through the Lesser Antilles, the heavy rainfall caused mudslides, killing two people. On later reanalysis, it had briefly attained tropical storm status (without being named), but wind shear prevented further development of the system, and advisories were discontinued on November 16 as it lost its closed circulation about 305 miles (491 km) southeast of Kingston, Jamaica.
The remnants of the depression continued westward and moved along the northern shore of Honduras, merging with parts of a larger low pressure system. It is uncertain whether the remnants of Gamma absorbed the low pressure system or vice versa. The storm grew in strength, and a closed circulation formed on November 18, becoming a tropical storm for the second time (but named Gamma only starting here). After regeneration, and after making landfall over northern Honduras floods from Gamma killed 34 people in Honduras. Gamma meandered in the Caribbean Sea for a short time, until slowly weakening. The storm eventually disintegrated into a remnant low late on November 20, after causing 37 direct and 4 indirect deaths in total.
Tropical Storm Delta
Tropical Storm Delta formed with tropical-storm-force winds on November 23, when a strong non-tropical low near the Azores slowly drifted southward and attained tropical characteristics while entering increasingly warmer waters.
Delta drifted slowly and erratically southwards for several days before accelerating north-eastwards then eastwards towards the Canary Islands and North Africa. During this period, it twice approached hurricane strength, although it never achieved hurricane intensity. On November 28 it merged with a frontal system northwest of the Canaries and became a vigorous extratropical storm. It caused severe damage to the Canary Islands and claimed at least seven lives, including six who drowned while attempting to reach the Canary Islands by boat from Africa. El Dedo de Dios, or God's Finger, a geological feature which had been pointing towards the sky for over a millennium and an important landmark for the Canary Islands, was toppled during the storm. Delta also caused power outages, leaving some 200,000 people without power and forcing airports to close down.
The remnants of Delta later moved into Morocco, bringing needed rain. It caused no damage and was described as a "normal atmospheric disturbance".
Hurricane Epsilon
On November 29, Tropical Storm Epsilon formed in the Central Atlantic, forming the same way Delta did when a non-tropical low pressure system well east of Bermuda acquired tropical characteristics. On December 2, the storm strengthened into a hurricane, making it the fifteenth of the season and the first storm since Hurricane Lili in 1984 to reach hurricane strength after the official end of a season.
Hurricane Epsilon strengthened further to tie for the second-strongest December hurricane on record with 85 mph winds at its peak, and it lasted longer than any other hurricane ever to form in December. However, it was eventually torn apart by shear and absorbed into an approaching front. It never made landfall or threatened land. The development and persistence of Epsilon perplexed forecasters at the National Hurricane Center throughout the lifetime of the storm.
Tropical Storm Zeta
Late on December 29, more than four weeks after the official end of the season, a tropical disturbance developed in the east-central Atlantic. It quickly became more organized and was declared Tropical Depression Thirty. The next day, Thirty was declared a tropical storm. Zeta made a turn toward the west but stalled and gradually weakened until dissipating on January 6, 2006.
Zeta is one of the latest-forming tropical cyclones ever to develop in the recorded history of Atlantic hurricane seasons; the only later storm was Hurricane Alice of 1954-55, which is estimated to have become tropical on December 30, 1954, at 1 a.m. EST (0600 UTC). It is also the second recorded North Atlantic tropical cyclone (after Alice) to exist in two calendar years. In addition, Zeta surpassed Alice as the longest-lived tropical cyclone to form in December and cross over into the next year, and it was also the longest-lived January tropical cyclone. Zeta finally dissipated on January 6, 2006.
Storm Names
Arlene
Bret
Cindy
Dennis
Emily
Franklin
Gert

Harvey
Irene
Jose
Katrina
Lee
Maria
Nate

Ophelia
Philippe
Rita
Stan
Tammy
Vince
Wilma

Alpha
Beta
Gamma
Delta
Zeta
Retirements
The names Dennis, Katrina, Rita, and Wilma were retired and were replaced by Don, Katia, Rina, and Whitney in the 2011 Atlantic hurricane season.
Community content is available under
CC-BY-SA
unless otherwise noted.