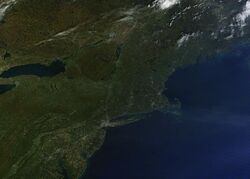 This list includes all tropical systems that have had an impact on New England, otherwise known as the American Northeast. States included are Connecticut, Maine, Massachusettes, New Hampshire, New York, and Rhode Island, Vermont. Due to the increasing wind shear and cool sea surface temperatures (SST), tropical cyclones rarely ever affect this area at a strong intensity. However, the large population density causes tough evacuations if a hurricane were to affect the area. In total 42 tropical systems directly impacted the area, including those in extratropical state.
List of tropical cyclones
2005-Present
Tropical Storm Cindy (2005) - As an extratropical storm, Cindy brought mostly an inch of rain to most of New England, with heavier rains locally.

Hurricane Ophelia (2005) - As Ophelia passed very close to Cape Cod, a few power outages were reported. Most of the damage reported from Ophelia's passage near New England occured in Cape Cod, where over 5" of rain was reported locally.
Hurricane Noel (2007) - Hurricane force winds reached the shore, causing beachfront damage and erosion, mainly the Cape Cod region.
Tropical Storm Irene (2011) - A weakened Irene made landfall near New York City and continued up into Maine. 13" of rain dropped in parts of New York state. Irene dissipated in Maine.
List of landfalls in the New England area
Pre - 20th Century
Storm
Category
Season
Date of landfall
Peak intensity
Intensity at landfall
Unnamed
Category 3
Category 3
1869
September 9, 1869
1869 Saxby Gale
Category 2
Category 2
1869
October 4, 1869
Unnamed
Category 1
Tropical Storm
1872
October 27, 1872
Unnamed
Category 1
Tropical Storm
1874
September 30, 1874
San Felipe Hurricane
Category 3
Tropical Depression
1876
September 19, 1876
Unnamed
Category 3
Extratropical Storm
1877
October 5, 1877
Gale of 1878
Category 2
Extratropical Storm
1878
October 24, 1878
Unnamed
Category 3
Category 1
1879
August 19, 1879
Tropical Storm Eleven
Tropical Storm
Extratropical Storm
1880
October 23, 1880
Unnamed
Category 3
Tropical Storm
1888
August 22, 1888
Unnamed
Tropical Storm
Extratropical Storm
1888
September 12, 1888
Unnamed
Category 1
Category 1
1888
September 26, 1888
Unnamed
Tropical Storm
Tropical Storm
1888
September, 1888
Unnamed
Category 2
Tropical Storm
1889
September 25, 1889
Hurricane Four
Category 3
Category 1
1893
August 24, 1893
1893 Sea Islands Hurricane
Category 3
Tropical Storm
1893
August 29, 1893
20th Century
Storm
Category
Season
Date of landfall
Peak intensity
Intensity at landfall
New England Hurricane of 1938
Category 5
Category 3
1938
September 21, 1938
1944 Great Atlantic Hurricane
Category 4
Category 3
1944
September 15, 1944
Hurricane Able
Category 2
Tropical Depression
1952
September 1, 1952
Hurricane Carol
Category 3
Category 3
1954
August 31, 1954
Hurricane Edna
Category 3
Category 2
1954
September 11, 1954
Hurricane Diane
Category 3
Tropical Storm
1955
August 18–19, 1955
Hurricane Cindy
Category 1
Tropical Storm
1959
July 11, 1959
Hurricane Donna
Category 5
Category 2
1960
September 12, 1960
Hurricane Esther
Category 4
Tropical Storm
1961
September 26, 1961
Hurricane Alma
Category 3
Extr. Storm
1966
June 13, 1966
Tropical Storm Doria
Tropical Storm
Tropical Depression
1971
August 29, 1971
Hurricane Agnes
Category 1
Tropical Storm
1972
June 22, 1972
Tropical Storm Carrie
Tropical Storm
Tropical Storm
1972
September 3, 1972
Subtropical Storm Alfa
Tropical Storm
Subtropical Storm
1973
July 30, 1973
Hurricane Belle
Category 3
Category 1
1976
August 10, 1976
Hurricane Gloria
Category 4
Category 1
1985
September 27, 1985
Tropical Storm Henri
Tropical Storm
Tropical Depression
1985
September 23, 1985
Tropical Storm Chris
Tropical Storm
Tropical Depression
1988
August 29, 1988
Hurricane Bob
Category 3
Category 2
1991
August 19, 1991
Hurricane Bertha
Category 3
Tropical Storm
1996
July 13, 1996
Hurricane Floyd
Category 4
Tropical Storm
1999
September 16–17, 1999
21st Century
By month